BLESSING ELEMENTARY SCHOOL
For our Word of the Day program, students are encouraged to write a sentence using the word of the day and drop it in their grade level bucket in the front hallway each morning for a chance to have their sentence read during announcements! Word of the Day Calendars are given to the students to keep. Don't forget to write your first and last name with your sentence, as well as your grade level! Click on the link below to view the WOD calendar!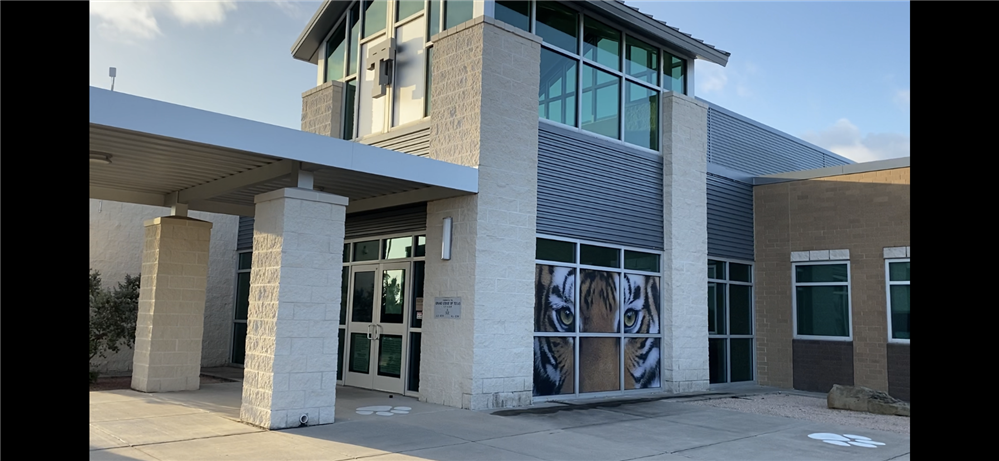 Campus Updates

May 2023 Newsletter

We are so close to the end of the 2022-2023 academic year, and what a year it has been. Our students have grown by leaps and bounds, and they continue to amaze us daily. We have several fun events planned for the end of the year, so please check out the campus newsletter, which will also be posted on our campus Facebook page.

I also wanted to take a moment to share with you some important personal news. While I have thoroughly enjoyed the last three years at Blessing Elementary School, it is time to say good-bye! I will be transitioning to the Tidehaven secondary campus next year to serve as the Assistant Principal for both Tidehaven Junior High and Tidehaven High School. This is a bittersweet move for me. On one hand, I will certainly miss my colleagues, students, and the community at Blessing Elementary School. On the other hand, as I began my career in education as a high school teacher, I must admit that I am excited about getting to work with secondary students once again. Thank you all for welcoming me into your community and allowing me to serve you here. It has truly been a joy and a blessing, and I look forward to seeing you soon when your students move up to TJHS!

Respectfully,

Merideth Dodd
Blessing Elementary School Principal

Winter News 12/05/2022

We are on a countdown to the Christmas holiday! December is an extremely busy month, so be sure you're checking your student's backpack each evening, as well as reading the newsletters and Remind messages from your teachers. We don't want you to miss out on the fun! Here is the most recent campus newsletter: Winter 2022

End of the First Six Weeks Grading Period 09/26/2022

That's a wrap! The first six weeks was a great one, with record enrollment at Blessing Elementary School. We will have an Awards Ceremony for grades K-5 on Friday, October 7th, to celebrate all of the accomplishments of our amazing students. Before that, however, we will host a Parents' Informational Meeting on Monday, October 3rd beginning at 5:30 PM. At 6:30 PM that same night, PTO will host it's first meeting of the year, in our Cafeteria. We hope that you will join us!

We have staggered the start times so that parents can attend multiple sessions for siblings. Come early or stay late to discuss specific concerns regarding your student. Translators will be available!

5:30-5:45 Pre-K and Kindergarten
5:45-6:00 1st and 2nd Grades
6:00-6:15 3rd and 4th Grades
6:15-6:30 5th Grade
6:30-7:00 PTO Meeting

Spirit Days

We have spirit, yes we do! We have spirit, how about you? Students are encouraged to join in on the fun of our spirit days this fall. We have a whole week of them planned for Homecoming as well, so get ready!

Welcome Back to Blessing Elementary School!

School Supplies
Once again, TISD has purchased school supplies for our elementary students! Parents only need to purchase a clear or mesh backpack and we will supply the rest. While it is not required, if you want to help supply your student's classroom even further, here are some helpful supplies that we would love to receive!
-Hand sanitizer
-Storage bags (gallon or quart sized)
-Disinfectant wipes
-Crayola brand crayons (for PreK and K especially)
-Facial tissue
-Colored cardstock (thick printing paper in a variety of colors)
-Dry erase markers (variety of colors)

Breakfast
Breakfast is served each day between 7:30 and 8:00 for all students. At 8:00, breakfast will no longer be available to students. If your child/children would like to eat breakfast at school, please make sure they arrive no later than 7:45 so that they have time to eat and get to class before the first bell.

Visitors
Visitors are welcome to come to campus for various programs, volunteer opportunities, and lunch with their student. For the safety of our staff and students, all exterior doors and gates will remain locked each day. When visiting the campus, you will push the button to the left of our front doors to alert our office staff. You must then present a valid photo ID (driver's license, government-issued ID card, or passport), which will be scanned through the Raptor system before you will be issued an adhesive badge. Visitors must prominently display this badge on the front of their shirt for the duration of their time on campus, and then "check out" by returning this badge to the office before leaving campus. Anyone not wearing a badge will be escorted to the office and may be asked to leave campus. For many of our daytime programs and activities, visitors will be able to come get a badge in the days leading up to the event to decrease wait time and congestion.

If you come during lunch, you may be asked to sit outside at the picnic tables if there is not enough room within the cafeteria (depending on the number of students at lunch, and the number of visitors present). Please note that visitors may only provide food to their own students, due to food allergies and dietary restrictions.

For the safety of our staff and students, as well as to maintain the privacy of our students, visitors are not permitted to walk down the halls or enter classrooms without permission. We invite you to be knowledgeable about your child's academics and to be involved in school activities, but safety and security are our top priorities. Therefore, if you wish to visit a classroom, this must be scheduled first with the campus Principal.

Drop-Off, Dismissal, and Transportation Changes
The front doors open at 7:30 AM. Parents must not drop off students before this time, as there will not be adult supervision provided until 7:30 AM. NEW THIS YEAR: Parents will drive around behind the school before entering the front drive for both morning drop-off and afternoon dismissal. This will help to decrease traffic congestion in front of the school on FM 616. All students will be dismissed at 3:30 daily. There will not be any students released at the door (walk-up parents) until all of the car riders are picked up. Please see the enclosed map of our drop-off and dismissal procedures.

There are two methods of transportation - car riders and bus riders. Should you need to change your student's method of transportation, please send a note to the teacher with your student. In emergency situations, you may call to have your student's transportation changed before 2:30 PM, but we will still require you to send something in writing via email, including a picture of your driver's license. This helps to ensure that all of our students get home safely. Changes will not be accepted after 2:30 PM.

If a parent needs to pick up their child before dismissal time, the parent must provide a valid photo ID that matches the name on the student's list of emergency contacts. We ask that parents reserve early pick-ups for doctor appointments and emergency situations so that instruction is not interrupted. Both full-day and partial-day absences (tardies and early pick-ups) will count against your child's daily attendance. We are teaching from bell to bell, and don't want your child to miss out on any instruction.

If at any time, you would like to speak to me or if you have questions, please feel free to email me at mdodd@tidehavenisd.com, or call the school at 979-843-4330. I am here to support you and your student!

Sincerely,

Merideth Dodd

Principal

Blessing Elementary School

Drop Off and Dismissal Procedures (Updated August 2022)

A. Enter campus from the East Parking Lot (the new lot between the new school and the original BES campus).

B. Drive around behind the school using the gravel loop behind the playgrounds in a single file lane.

C. Enter the front loop. Remain in your vehicle. If you need to assist a student with a buckle, please park in the parking lot.

1. For morning drop-off, remain in a single lane. Students should exit the vehicle on the right side, closest to the sidewalk.

2. For afternoon dismissal, separate into two lanes. Once your QR code has been scanned, please remain in that lane, as your child will be assigned to Lane 1 or Lane 2 according to where they were scanned.

D. Exit through the main drive onto FM 616.

E. Morning drop-off begins at 7:30 AM when the doors open. Dismissal typically concludes around 3:45 PM. All students should be picked up by 4:00 PM at the latest. If you arrive later than 4:00 PM, you will be asked to come inside and sign out your student.

Thank you for helping to ensure the safety of our students, staff, and community members.